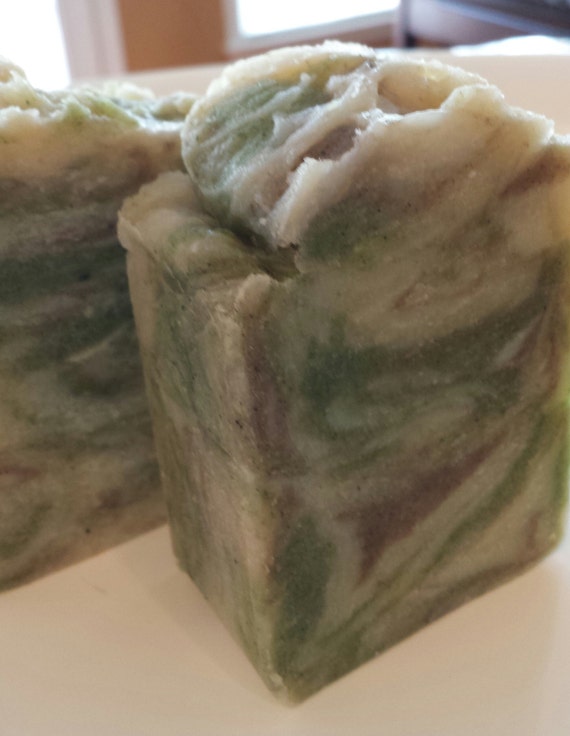 All Natural Vegan Soap 'Grass Roots" by Creamedsoap
"This handcrafted vegan friendly bar has a fresh earthy scent. It is scented with essential oils of Lemongrass, Gingergrass and Patchouli. We enriched this bar with Organic Cocoa and Shea butters, along with my favorite, Avocado oil. This bar has been colored with Bentonite clay, Nettle leaf powder and Ground Black Walnut Hull."
[pullquote2 quotes="true" align="center" variation="mossgreen" cite="Laurie A. Bariola"]My first experience with Creamed Soap was this little gem, Grass Roots. Now I'm a lover of nature, nature scents and oils but I don't think I'd call this earthy, maybe you would. I'm not correcting anyone I'm just saying I could SMELL that it had arrived when I approached my mailbox. The scent was amazing, clean, fresh, inspiring… almost spring-like. The blend of Lemongrass, Gingergrass and Patchouli are perfect.[/pullquote2]
Lemongrass is not only a natural astringent it is known as an anti-imflamitory and to remove toxins from the body.   Gingergrass is what I believe creates the almost Spring like fragrancy in the soap.  This essential oil is well know for it's ability to alleviate stress, improve circulation and works as an aphrodisiac.  That's an added bonus.  We are all familiar with Patchouli, of course unless you were born after 1980.  Patchouli basically has all the benefits of the other two and more including helping cuts and scrapes heal as well as stimulating the growth of new skin cells.
After you quit cooing over the aroma you'll be captivated by the way it leaves your skin feeling.  I noticed the Black Walnut hull when using the bar.  You definitely don't want to use a wash cloth with this.  Let your skin benefit from bar completely.  Next thing I noticed immediately after my shower was the way my upper arms felt. They are normally soft but a little dry after a shower.  Not only did they feel moisturized they didn't have any soap residue, NONE!  I haven't suffered from the dry skin itch and I haven't needed any other exfoliator since using this.
I don't typically use any facial moisturizers.  I exfoliate daily and rub in a dab of Vitamin E oil on my face.  I have a very dry T zone that will leave white flakes if I don't.  After my second shower with Grass Roots I haven't added anything to my face, no flakes, no dryness.  Just smooth, moist skin.
I do hope you'll try this and the other amazing Creamed Soap's over at the Etsy Store 
You'll find individual soaps as well as gift sets that make for wonderful co-worker gifts, baby shower gifts for Mom to keep her stress level down and even for someone recovering or just because you want to say thank you.  I'm excited to continue using Grass Roots.  As much as I enjoy this product I'm not sure I want to be exposed to the others.  I can't imagine anything smelling better than this one.
Comments
comments